Where We Are Now
Andy's Going to Greece!
July 12–19, 2019
In participation with "Let's Supper, Mr. Iolas/ Resurrection Re"
Alexander Iolas Villa, Andy Warhol Room | Athens, Greece
Figments: Conversations with Andy movies will be shown in the Andy Warhol Room at Iolas' villa in Athens. Andy's presence was requested in conjunction with a conceptual exhibition that refers to the 12 Apostles from Andy's (and, of course, Da Vinci's) Last Supper. Alexander Iolas and Andy had a close relationship, that you can read more about here, and Iolas was responsible for the proposal that resulted in Andy's 100+ renditions of the iconic painting. Keep an eye on Andy's adventures through the FB Conversations with Andy page!
Click here to check out an introduction to the project and the participating artists as written by the two curators.
And click here to read the curators' comments specifically about Andy and why Figments is so integral to this exhibition! (Note, the dates listed in this doc are no longer accurate, and the exhibition will run July 12 through July 19.)
~~~~~~~~~~~~~~~~~~~~~~~~~~~~~~~~~~~~~~~~~~~~~~~
Andy's Riverfront Shrine — Beaufort River
Next to The Big Chill House (where the movie was filmed in the 1980s)
Beaufort, South Carolina
Figments: Conversations with Andy has another shrine location for special events, birthdays, and anniversaries. An image of Andy's tombstone is placed at the edge of the Beaufort River next to the Big Chill House during the activities, including taking photos, videos of Paul LeRoy Gehres postcards, items sent to Andy, and pilgrims having a conversations with him.
There are no longer daily visits at his gravesite in Bethel Park. However, there is a box with blank cards and pens to write a note to Andy. The notes are collected on a regular basis and included in the archive. Postings of the notes are on FB Conversation with Andy!
Devotees of Andy also still send written pieces for him, like this blog post by Laura Smith, "The People Who Talk to Andy Warhol From Beyond the Grave" and this sample of an essay called "Figments of an Icon," written by Pitt student Sam Ruckett that will be part of the upcoming Figments book.
~~~~~~~~~~~~~~~~~~~~~~~~~~~~~~~~~~~~~~~~~~~~~~~
10th ANIVERSARY ! February 9th ! Andy has another shrine in Beaufort South Carolina next to the Big Chill House
~~~~~~~~~~~~~~~~~~~~~~~~~~~~~~~~~~~~~~~~~~~~~~~
Political Sign on Andy's Grave
October 10, 2018 8:11 PM
St. John Byzantine Cemetery, Bethel Park
A Pennsylvania state House candidate was criticized for placing her campaign sign inches away from Andy Warhol's tombstone last weekend. But the candidate said she did not have any political intent. Screenshots from a 24/7 webcam pointed at the Pittsburgh icon's gravesite show Sharon Guidi, Democratic nominee for state House District 40, posing next to the tombstone and her campaign sign on Saturday at St. John the Baptist Byzantine Catholic Cemetery in Castle Shannon.
Madelyn Roehrig, a longtime visitor to Mr. Warhol's grave who has documented it through photos and an archive of handwritten notes, said people leave all kinds of personal items for Mr. Warhol to "remember his legacy and just have a connection with him in some way," but never political signs, to her knowledge.
"I don't think that's appropriate for a cemetery, especially with Andy," Ms. Roehrig said. "He's not endorsing anybody. I think that's a little bit much."
The gravesite is about sharing a community and "having respect for Andy and his family and his legacy," Ms. Roehrig said. Since 2009, Ms. Roehrig has run Conversations with Andy -- an art project that documents Mr. Warhol's tombstone through a collection of handwritten notes from visitors and video shoots of people talking about the artist.
"Some people want to do what they want to do," Ms. Roehrig acknowledged. "I don't control the grave."
The screenshots of the candidate placing the sign were retrieved from EarthCam, which has partnered with the Andy Warhol Museum and St. John the Baptist Church to live-stream the gravesite around the clock since 2013. Viewers of the stream can take screenshots, which are then stored in an archival collection below the video.
~~~~~~~~~~~~~~~~~~~~~~~~~~~~~~~~~~~~~~~~~~~~~~~
Andy's 90th Birthday Party
August 4, 2018
5:00 p.m.-9:00 p.m.
St. John Byzantine Cemetery, Bethel Park
Join us to celebrate Andy's milestone 90th birthday! There'll be cake, art activities, visitors and good times to celebrate the community and Andy's legacy. Anyone can come and entertain: poets, musicians, Andy impersonators, or anyone who wants to perform! Andy's actual birthday is August 6…museum is not open that day….so we are having his celebration on the 4th….BUT we will also be doing something on the 9th TBA !
~~~~~~~~~~~~~~~~~~~~~~~~~~~~~~~~~~~~~~~~~~~~~~~
Open Studios Radiant Hall
May 2018
Radiant Hall, Lawrenceville
Many people visited and sold some art !
~~~~~~~~~~~~~~~~~~~~~~~~~~~~~~~~~~~~~~~~~~~~~~~
13th Annual Lawrenceville Studio Tour
October 21, 2017
11:00 a.m.–6:00 p.m.
Radiant Hall, Lawrenceville
Take part in the 13th Annual Lawrenceville Studio Tour and come visit me and Andy in my studio at Radiant Hall! See notes and objects left by pilgrims, along with photos from the grave, and talk with me about Andy, Pittsburgh art, and the community of pilgrims who visit Andy at his grave.
~~~~~~~~~~~~~~~~~~~~~~~~~~~~~~~~~~~~~~~~~~~~~~~
Andy's 89th Birthday Party!
August 6, 2017
5:00 p.m.–9:00 p.m.
St. John's Byzantine Catholic Cemetery
Join us to celebrate the life and ongoing influence of Andy Warhol — there will be cake, music and a good time had by all! The curator of The Andy Warhol Museum, Jose Carlos Diaz, will be joining us, PLUS we'll be launching a weather balloon in honor of Andy Warhol with a banner that all visitors are welcome to sign. Then you can track the balloon's progress here as your well-wishes make their way across the country. Check out Elvis inviting you to join us!
The weather balloon took off carrying a huge banner with his picture on it, signed by all of the party guests, and it landed near Scranton, Pa., around 4:15 a.m. the following day.
You can check out its entire flight path here.
And see more photos and info on our Tumblr page or on our Facebook page.
~~~~~~~~~~~~~~~~~~~~~~~~~~~~~~~~~~~~~~~~~~~~~~~
Boxheart Gallery
July 11–August 11, 2017
Public Reception with the Artists
July 15, 2017
5:00 p.m.–8:00 p.m.
I will be exhibiting two different kinds of work in the Boxheart Gallery's NOW exhibit. There will be a new animation of everyday photos from Andy's grave, representing some of the latest iterations of fans' and pilgrims' offerings, and I will also show new images I'm creating involving the ocean and superimposed imagery. My new work is called Imprints. We all leave an imprint in the lives we touch. Death for some is an absolute end, but death for those with special gifts means another journey intertwining family and friends of past and present. A free reception that's open to the public will take place on Thursday, July 15, so I hope you stop by to chat!
~~~~~~~~~~~~~~~~~~~~~~~~~~~~~~~~~~~~~~~~~~~~~~~
SIX x ATE: In Situ
SIX x ATE Artist/Lecture Series
June 29, 2017
6:00 p.m.–9:00 p.m.
Join us for dinner and discussion! Food will be provided by B52 Cafe, art and discussion will be provided by yours truly and other local artists! I will be showing a 2-minute video along with a 3-minute mini-lecture that talks about Andy is now "in situ" at the St. John Byzantine Catholic Cemetery, where his influence is still creating a Warholian experience even from the afterlife. The project itself is a local expression of art that occurs almost entirely in situ on the premises, except for the movies and art installations that travel to museums and other presentations. Hope to see you there!
~~~~~~~~~~~~~~~~~~~~~~~~~~~~~~~~~~~~~~~~~~~~~~~
Pittsburgh Entrepreneurs Forum: Art and Entrepreneurship
Mattress Factory
June 20, 2017
5:30 p.m.–8:30 p.m.
I will be participating in this forum discussion along with Juan Carlos Diaz, the Fine Curator of Art at the Warhol Museum who came to visit me and Andy at my studio awhile ago. Come out and discuss with us!
~~~~~~~~~~~~~~~~~~~~~~~~~~~~~~~~~~~~~~~~~~~~~~~
Andy's Annual Easter Egg Hunt
April 16, 2017
4:00 p.m.–5:00 p.m.
Join us for Andy's Annual Easter Egg Hunt at his gravesite! Every year, the night before Easter, the Easter Bunny comes and hides eggs so you and your friends and family can enjoy a fun event with Andy in the afterlife on Easter Sunday. Treats, fun and good times all around!
Bookmark EarthCam so you can watch if you can't come! (plus, if you remember, you should be able to catch the Easter Bunny hiding its eggs)
~~~~~~~~~~~~~~~~~~~~~~~~~~~~~~~~~~~~~~~~~~~~~~~
Jose Carlos Diaz, Milton Fine Curator of Art at The Andy Warhol Musueum
I had an incredible visit with Jose Carlos Diaz at my studio in Radiant Hall! He loved everything, from the work I've done on Figments to all of the artwork I've done over 10 years on terrorism that led me to talk with Andy at his gravesite in the first place. He's thrilled with the book and its proposal, and we'll be meeting up again soon at The Warhol Museum!
~~~~~~~~~~~~~~~~~~~~~~~~~~~~~~~~~~~~~~~~~~~~~~~
Andy's Annual Memorial
February 22, 2017
6:30 a.m.–7:30 a.m.
Artist and performer Neil Murray will be performing a sunrise dance at Andy Warhol's grave, bringing new hope and beginnings with the rising sun as we honor and pay tribute to Andy Warhol on the 30th anniversary of his departure to the afterlife. Andy's newphew, Donald Warhola, may also join us to celebrate his uncle's life and afterlife. All are welcome to attend and bring devotional offerings such as flowers, cards, Campbell's soup cans, Coke bottles, or anything that represents however one feels their connection to Andy Warhol. Come as early as 6:30 a.m. for sunrise at 7:09 a.m.
Bookmark EarthCam so you can watch if you can't come!
~~~~~~~~~~~~~~~~~~~~~~~~~~~~~~~~~~~~~~~~~~~~~~~
12th Annual Lawrenceville Artists' Studio Tour
Radiant Hall, Lawrenceville
November 19, 2016
11 a.m.–6 p.m.
Come meet Madelyn in her studio at Radiant Hall! You can talk about Andy, art, afterlife or anything else you want, plus see Figments movies and check out notes and gifts that have been collected from Andy's grave over the past eight years. Plus, you can also explore the workspaces of other artists creating pieces in a variety of mediums.
~~~~~~~~~~~~~~~~~~~~~~~~~~~~~~~~~~~~~~~~~~~~~~~
Vermont Studio Center Residency
September 9–23, 2016
Spending time at an artist's residency, dedicating days to finishing up the book. Each season has so much material in every category: notes, tombstones, gifts, visitors. It's a massive undertaking to try to pare it down and decide what's "best" to go in the book and what highlights all of Andy's Pilgrims.
~~~~~~~~~~~~~~~~~~~~~~~~~~~~~~~~~~~~~~~~~~~~~~~
Radiant Hall Studio Tour (click the link for more info)
Saturday, September 19, 2015
Please join Madelyn, Andy (in spirit!) and all of the other artists for the first annual Radiant Hall Studio Tour fundraiser!
Brunch starts at 1:30 p.m., followed by a pop-up exhibition at 3:00 p.m., and the day concludes with the last stop at the original studio location. Beer and wine will be provided by Sweetwater Brewing Company and EngineHouse 25 Wines at each location. Food is provided by The Vandal, Station, Lithic Granola and more.
~~~~~~~~~~~~~~~~~~~~~~~~~~~~~~~~~~~~~~~~~~~~~~~
"Andy Warhol: Life and Afterlife" Special Studies Class at Chautauqua Institute
Co-teaching with Donald Warhola
Thursday and Friday, July 23-24, 2015
In session one, Andy's nephew, Donald Warhola, will visit the class to talk about Andy's childhood, career as a commercial artist, and subsequent success as a Pop Artist. Donald will also discuss growing up with his uncle. In session two, artist Madelyn Roehrig explores Warhol's afterlife through visitors notes, gifts and films of visitors talking to Andy at his grave made over the past six years.
~~~~~~~~~~~~~~~~~~~~~~~~~~~~~~~~~~~~~~~~~~~~~
Pittsburgh Filmmakers Film Kitchen Contest Show
Madelyn is screening her KITSCH 4-minute movie filmed at Andy's grave.
Heinz Ketchup, the Easter Bunny, and the Anonymous Neurologist focus on "Family Days with Andy."
Tuesday, June 9, 2015
Reception 7:00 p.m. | Screening 8:00 p.m.
~~~~~~~~~~~~~~~~~~~~~~~~~~~~~~~~~~~~~~~~~~~~~~~
Pittsburgh Filmmakers Film Kitchen
Tuesday, December 9, 2014
Reception 7:00 p.m. | Screening 8:00 p.m.
Madelyn will show three short films:
Lucy's Diamonds – A large diamond travels from the sky to a little girl's backyard
Transported Traditions – A self-portrait using still images photographed from family home videos
Darksides: Terror Through TV – A "broadcast" of still images photographed from "trash TV"
Film Kitchen is held the second Tuesday of every month and features independent film and video work from regional artists. Film Kitchen is co-sponsored by Pittsburgh Filmmakers, 92.1 WPTS-FM, Mellinger's Beer Distributing, and Spak Brothers Pizza.
Andy's Tombstone, Edition II won 1st prize, the Bellinger Award, at the 57th Chautauqua Annual Exhibition of Contemporary Art! The short film was selected for inclusion in the exhibition by juror Jerry Saltz, senior art critic and columnist for New York Magazine, former long term senior critic for The Village Voice, and three time Pulitzer Prize nominee.
Andy and Figments are also part of an exhibition at Elmhurst Art Museum in Illinois, and mentioned in the 4th paragraph below:
LifeLoggers: Chronicling the Everyday
May 11 to August 17, 2014
Counting steps, tracking calories and checking in—new technology allows us to be our own favorite research project. The artists in the exhibition, LifeLoggers: Chronicling the Everyday, take logging to a new level by translating their data into complex and prodigious artwork.
"Lifelogging" describes the extensive documentation of one's personal experience. Previously the domain of scientific research and recently individual health and fitness analysis, the impulse to track, map and graph now animates artistic practice. The 13 artists in this exhibition produce work in different media—from low tech to high tech—that demonstrates the chronicling impulse, not as an objective record of every second lived, but as a thoughtful and studied approach to revealing the complexities of human existence.
By focusing on a particular aspect of their lives, the artists in Lifeloggers turn personal bits of data and lived experience into works of art. Suzanne Szucs chronicled the passage of time through fifteen years of Polaroid self-portraits and Clive Smith painted miniature self-portraits on wood blocks every day for a year. Others recorded belongings or surroundings: Jennifer Dalton documented both market and sentimental values for everything she owned at a particular time in The Reappraisal, and Elise Engler archived all of the things she carried while traveling in a series called Suitcase Drawings.
Stephen Cartwright charts his movement through the world around him, logging his longitude and latitude every hour of every day to translate the numerical data into kinetic sculptures, and Nathalie Miebach transforms scientific weather data into colorful, woven sculptures and musical scores. These and other compelling works by Leona Christie, Richard Garrison, Katie Lewis, John Peña, Madelyn Roehrig, Renato Umali and Jorinde Voigt explore the many ways lifelogging has entered contemporary art practice.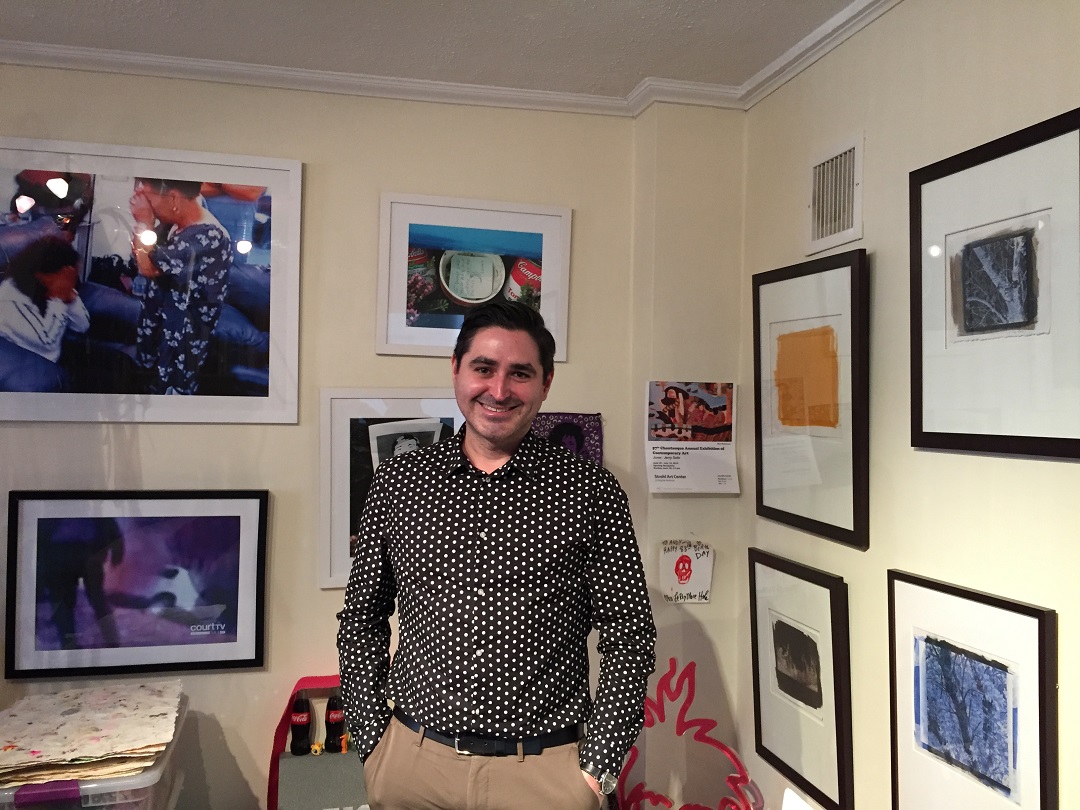 Visit the studio during the Radiant Hall fundraiser to see all of the things people have left for Andy over the years -- the Factory 2.0 Afterlife time capsule!
Packing up for the Chautauqua class
Andy's neon sign in front of a giant contact sheet print made for the Three Rivers Arts Festival 2015
Madelyn Roehrig (in the blue shirt) next to juror Jerry Saltz at the opening of the 57th Chautauqua Annual Exhibition of Contemporary Art, 6.22.14
Figments: Conversations with Andy, and the short film Andy's Tombstone: Edition II, 57th Chautauqua Annual Exhibition of Contemporary Art, 2014
"Lifeloggers: Chroniclers of the Everyday," Carleton College, Exhibit opening, Photograph by Kay Kirscht, 2014
"Lifeloggers: Chroniclers of the Everyday," Carleton College, Display of objects, Photograph by Kay Kirscht, 2014